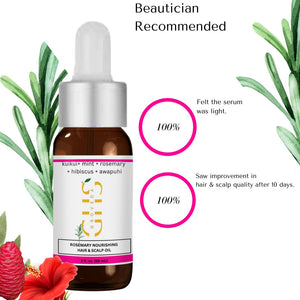 Rosemary Nourishing Hair & Scalp Oil
Our Rosemary Extreme Nourishing Hair & Scalp Oil is 100% Pure and Natural Rosemary Oil plus more essential natural oils. 

Our  Rosemary Extreme Nourishing Hair & Scalp Oil is a non-greasy, natural treatment that promotes healthy hair growth. Providing an essential layer of hydration and protection to your scalp, the oil works to nourish hair follicles and prolong the life of your salon or home-applied color as well. Our proprietary blend of oils restore shine while encouraging new growth while creating a barrier between your scalp and harsh conditioners, shampoo, chemical treatments and dry air allowing you to care for your hair with less effort in order to achieve healthier hair and overall well being. 
Our oil is packed with amazing ingredients like; 
Rosemary helps the hair grow longer & thicker in short time. Helps in strengthening proteins to help improve texture and prevents splitting. Gives deep nourishment to hair, control sebum, maintain healthy scalp, hair shine and moisturize dry hair with less frizz. Contributes to the prevention of hair loss and breakage.
The anti-inflammatory and antioxidant properties help repair the hair. They may nourish the scalp and help with dandruff.
Awapuhi extract can also help balance the moisture in your hair, making it more manageable

Increasing circulation with a vasodilator like Peppermint oil could potentially improve hair growth and prevent some hair loss. Peppermint menthol also imparts a freshened smell and tingly sensation on the skin and scalp. You can reap these benefits by adding the essential oil to your beauty products.
The Hibiscus flower is a rich source of flavonoids & amino acids. While the former helps increase blood circulation in the scalp and stimulate dormant follicles, the latter helps with keratin production, giving your hair a natural shine and texture. Can also help balance the moisture in your hair, making it more manageable. 
KuKui Oil is penetrates the scalp and hair, allowing the skin to breathe and absorb all the necessary nutrients to continue its growth cycle. Furthermore, kukui is high in Omega-3 fatty acids (alpha-linoleic acid) essential for hair growth. The color of the bottle top may be black. 
---
We Also Recommend
---